Executive MBA - Warsaw University of Technology Business School
About the program
Programme blocks
In response to modern business world expectations, Warsaw University of Technology Business School has transformed an out-of-date traditional structure of managerial programmes into an innovative THREE PILLARS approach which aspires to shape advanced leaders.
All programmes offered by WUT Business School are based on those three pillars: Knowledge for Business, Business in Action and Personal Development: Transformation Labs. These result in a responsible, effective and competent leader, capable of facing modern world challenges.
NEW IN THE PROGRAMME! - FLEXIBLE STUDY FORMULA
Students now have a chance to obtain the MBA diploma after just 3 semesters!
For those interested, there is also a possibility to take up the 4th semester of the studies and gain even more knowledge during individually chosen specialized modules.
NEW IN THE PROGRAMME! Executive MBA students have a chance to take part in the New York City study trip. As part of the programme, they attend a business seminar in The City University of New York, Baruch College, one of the School's new partner universities.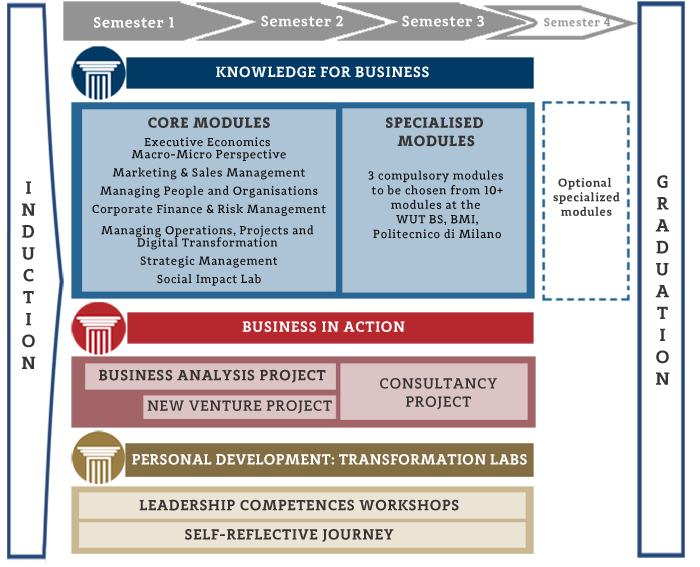 WUTBS
Project Management & Business Transformation
Big Data, Company Valuation and Mergers
Design Thinking
Industry 4.0

Baltic Management Institute:
Business & Corporate Strategy
Business Development Plan
Corporate Governance & Legal Environment
Innovation Management
Managing People & Change in Organizations
Executive Presence

Politecnico di Milano
Biomarketing
Circular Economy
Global Business Risks
Governance & Management in Family Companies
Sales Management